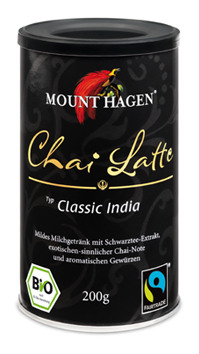 NEW Mount Hagen Organic Chai Latte
1st Feb, 2015
NEW Mount Hagen Organic Chai Latte
We are pleased to announce the launch of a delicious new instant beverage from Mount Hagen. Following its success in various countries around the world, Mount Hagen organic instant coffee is growing in popularity in Japan as well. The organic instant decaffeinated coffee is proving to be a real hit due to its delicious taste, the natural decaffeination, and that it is organic.
New Mount Hagen Organic Chai Latte has a traditional, exotic taste and fragrance blending cinnamon with organic tea. One cup of this will warm your body and your heart. As an instant powder, you can make your Chai Latte simply in a mug with the addition of boiling water. It can also be used to make desserts.
Mount Hagen was established at St. Magnus close to Bremen in Germany in 1896 and is a leading brand in the organic coffee field in Germany. Mount Hagen uses carefully selected organic ingredients and supports fair-trade by helping independent small producers and workers by always purchasing directly from the producers at premium prices compared with market prices. We are now pleased to introduce Mount Hagen Organic Chai Latte Classic India.