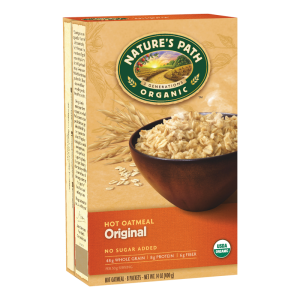 NEW Nature's Path Organic Hot Oatmeal
16th Mar, 2015
We are very pleased to introduce Nature's Path Organic Hot Oatmeal, a delicious organic instant hot oatmeal from North America's leading independent supplier of organic cereals and granolas.
Nature's Path Organic Hot Oatmeal is simply organic, certified non-GMO rolled whole-grain oats – no salt, sugar or additives. There are 8 single-serve sachets per box. You can enjoy a delicious and healthy bowl of hot oatmeal in minutes by simply adding boiling or very hot water; it can also be prepared by adding cold water and heating up in a microwave.
Milk, soymilk and/or sweetener such as maple syrup, brown sugar or honey can be added as desired. Also delicious with dried fruits and/or nuts.