Apology and Notice Regarding Potential Foreign Matter Contamination in Our Handled Product Rude Health Low Sugar Granola (Almond & Hazelnut)
16th Aug, 2023
Dear Valued Customers,
We sincerely appreciate your continued support.
We regret to inform you of a recent notification from the manufacturer, Rude Health Foods Ltd. in the UK, regarding the possibility of small stones being mixed into our product, "Rude Health Low Sugar Granola (Almond & Hazelnut)," which we import and sell.
Although we have not received any reports from customers thus far, in our commitment to ensuring the utmost safety, we have decided to immediately halt shipments of the affected product and initiate a prompt recall process.
If you possess the concerned product(s), we kindly ask you to return them to us at the address provided below using a cash on delivery, eg Takuhaibin. Upon confirmation, we will promptly issue a refund for your purchases. We again deeply apologize for any concern or inconvenience this may cause you.
Yours faithfully,
Management
MIE PROJECT, Ltd
Affected Product:
Product Name: Rude Health Low Sugar Granola (Almond & Hazelnut)
JAN Code: 5060120285355
Net Weight: 400g
Best Before Date: April 17, 2024 (2024.04.17)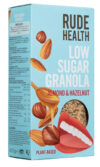 Contact Information for Inquiries:
MIE PROJECT Corporation
Phone: 03-5465-2121
Hours: 9:00 AM to 6:00 PM (Excluding Saturdays, Sundays, and Holidays)
CHOOSEE Online Shop
Inquiry Form: https://www.choosee.com/contactus/
Return Address for Products:
MIE PROJECT Corporation
1-3-8 Shoto, Shibuya-ku, Tokyo 150-0046
TEL: 03-5465-2121