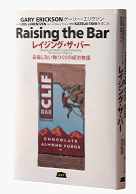 CLIF® Bar Sponsors Its First-Ever Climbing Competition in Japan with World-Class Athletes Chris Sharma and Yuji Hirayama
/ Gary Erickson's Book "Raising the Bar" to be Released in Japanese
23rd May, 2014
Two of the world's top professional rock climbers and Team CLIF Bar athletes Chris Sharma and Yuji Hirayama will host the first-ever CLIF® Bar sponsored climbing competition in Tokyo, Japan. To coincide with the climbing event, Clif Bar & Company owner and co-chief visionary officer Gary Erickson's book Raising the Bar will be released in Japanese at a press conference in Tokyo today.
"Bringing together Japanese climbing enthusiasts and two world-class athletes from the U.S. and Japan symbolizes the growing appetite for the sport, adventure and great-tasting nutritious food around the world," said Gary Erickson, owner and co-chief visionary officer of Clif Bar & Company. "Great food feeds adventure and we look forward to creating more CLIF Bar experiences in Japan."
CLIF Bar Sessions was created to attract Japanese climbers at all levels of competition from amateur to professional athletes to share in the adventure of one of CLIF Bar's heritage sports. Hirayama and Sharma will set and demonstrate climbing routes of varying difficulty and meet fans at the event. Winners will be selected in 11 divisions and each will receive a year supply of CLIF Bar products and other prizes. The event is sponsored in partnership with Japanese outdoor distributor A&F, premium quality, organic and natural food distributor MIE PROJECT, and Hirayama's Climb Park Base Camp gym.
"We are very excited to have Chris Sharma, and Gary Erickson and Kit Crawford of Clif Bar in Japan for the CLIF Bar Sessions at Climb Park Base Camp," said Hirayama.
Hirayama is the first Asian climber to win the International Federation of Sport Climbing Lead World Cup in 1998 and 2000, and has climbed some of the hardest climbing routes in the world, including a rapid, two-day free ascent of the Nose route on El Capitan. Sharma is hailed as the world's best rock climber, a long-standing pioneer who has mastered some of the most difficult routes in the history of the sport.
"I'm thrilled with the opportunity to work with my friend Yuji Hirayama, and thankful to CLIF Bar for creating this event," said Sharma. "I can't wait to travel to Japan and climb with Yuji outdoors and at his Base Camp gym."
Raising the Bar in Japanese
Raising the Bar will be released in Japanese at a press event today co-hosted by the MIE PROJECT and A&F with husband and wife team Gary Erickson and Kit Crawford, owners and co-chief visionary officers of Clif Bar & Company at the Tokyo American Club. The book tells the inspiring story of Erickson and the company he started in 1992, from the 175-mile bicycle ride where the idea of CLIF Bar was born to becoming the leader in organic energy bars in the U.S. The book chronicles Erickson's compelling personal story and life journeys that became the inspiration for his business philosophy. Erickson, a competitive cyclist and entrepreneur, illustrates how a company built on five aspirations – sustaining its business, brands, people, community and the planet – is good business.
"Guided by the five aspirations, we have created a different company: the kind of place we want to work, that makes the food we want to eat, and that strives for a healthier, more sustainable world – the kind of world we'd like to pass on to our children," said Crawford. "The five aspirations represent our personal values and ensure that our company contributes to the greater good."
Clif Bar & Company and Japan
Clif Bar & Company launched in Japan in 2012 with its energy bar and athletic performance product lines: CLIF Bar, CLIF SHOT BLOKS® and CLIF SHOT® Gel. The opportunity to provide portable nutritious food, and the Japanese strong affinity for active lifestyles, made Japan a natural fit for Clif Bar & Company's global expansion. Similar to the U.S., CLIF Bar launched in Japan with a grassroots approach of sampling bars at outdoor and athletic events where it could build loyalty and connect with the Japanese people. Including Japan, CLIF Bar is now in 13 countries that span across North America, Europe and Asia Pacific.
For more information, visit www.clifbar.jp.